LIVE VIRTUAL AWARDS CEREMONY!
Sunday December 6, 5:00pm PT
Stay tuned for details and link.
Shortlist for 2020
(in alphabetical order in each category)
---
–
THE NANCY RICHLER MEMORIAL PRIZE FOR FICTION
–
DANIEL GOODWIN: The Art of Being Lewis
Purchase the Book

The Art of Being Lewis is a story about the journey we take to become ourselves. East Coast architect Lewis Morton thought he had it all: loving wife and children, dream job, and a house that meets his exacting architectural standards. But after his beloved mentor dies unexpectedly and Lewis gets pulled into a lawsuit that threatens to destroy his career and possibly his life, the respectable identity he has carefully constructed for himself after fleeing his Jewish childhood in Montreal begins to disintegrate.
DANIEL GOODWIN was born in Montreal and educated at McGill. He is the author of one previous novel, Sons and Fathers, and a poetry collection, Catullus's Soldiers, which won a 2016 Vine Award for Canadian Jewish Literature. He currently lives in Ottawa, after having lived in Calgary for many years.
–
ALEX LESLIE: We All Need to Eat
Purchase the Book

We All Need to Eat is a collection of linked stories from award-winning author Alex Leslie that revolves around Soma, a young Queer woman in Vancouver. Through thoughtful and probing narratives, each story chronicles a sea change in Soma's life. Lyrical, gritty, and atmospheric, Soma's stories refuse to shy away from the contradictions inherent to human experience, exploring one young person's journey through mourning, escapism, and the search for nourishment.
ALEX LESLIE was born and lives in Vancouver. She is the author of the short story collection People Who Disappear (2012) which was nominated for the 2013 Lambda Literary Award for Debut Fiction and a 2013 ReLit Award, as well as a collection of prose poems, The things I heard about you (2014), which was shortlisted for the 2014 Robert Kroestch Award for Innovative Poetry. Winner of the 2015 Dayne Ogilvie Prize for LGBTQ Emerging Writers, she participated in the JCC Jewish Book Festival 2020 with her poetry collection Vancouver for Beginners.
–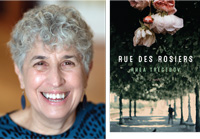 RHEA TREGEBOV: Rue des Rosiers
Purchase the Book

A young Canadian woman's search for her own identity brings her to Paris in 1982, and face to face with the terror of an age-old enemy. Sarah is the youngest of the three Levine sisters. At twenty-five, she is rudderless, caught in a paralysis which keeps her from seizing her own life. When Sarah is fired from her Toronto job, a chance stay in Paris opens her up to new direction and purpose. But when she reads "death to the Jews" on the wall above her local Métro station, shadows from childhood rise again. As her path crosses that of Laila, a young woman living in an exile remote from the luxuries of 1980s Paris, Sarah stumbles towards an act of terrorism that may realize her greatest fears.
RHEA TREGEBOV is the author of fiction, poetry and children's picture books. Her first novel, The Knife Sharpener's Bell, won the J.I. Segal Award and was shortlisted for the Kobzar Award. Tregebov was born in Saskatoon and raised in Winnipeg and did graduate work in literature at Cornell and Boston Universities. After working in Toronto for many years as a freelance author and editor, she taught in the UBC Creative Writing Program between 2004-2017. Rhea participated in the JCC Jewish Book Festival 2020.
---
–
THE PINSKY GIVON FAMILY PRIZE FOR NON-FICTION
–
ALLAN LEVINE: Seeking the Fabled City
Purchase the Book

In this definitive and meticulously researched account of the Jewish experience in Canada, award-winning and critically acclaimed author Allan Levine documents a story that is rich, accessible, often surprising, and epic in its scope. Relying on an abundance of primary sources and first-hand documentation and interviews, Seeking the Fabled City chronicles the successes and failures, the obstacles overcome and those not conquered, of a historic journey and the people who travelled it.
ALLAN LEVINE is an award-winning author and historian based in Winnipeg. He has written thirteen books including Toronto: Biography of City (2014) and King: William Lyon Mackenzie King: A Life Guided by the Hand of Destiny (2011), which won the Alexander Kennedy Isbister Award for Non-Fiction. His book, Coming of Age: A History of the Jewish People of Manitoba (2009) won the McNally-Robinson Book of the Year and the Best History Book Award at the Canadian Jewish Book Awards in 2010, and was the co-winner of the J.I. Segal Prize in Canadian Jewish History.
–
NAOMI K. LEWIS: Tiny Lights for Travellers
Purchase the Book

When her marriage suddenly ends, and a diary documenting her beloved Opa's escape from Nazi-occupied Netherlands in the summer of 1942 is discovered, Naomi Lewis decides to retrace his journey to freedom. Travelling alone from Amsterdam to Lyon, she discovers family secrets and her own narrative as a second-generation Jewish Canadian. With vulnerability, humour, and wisdom, Lewis's memoir asks tough questions about her identity as a secular Jew, the accuracy of family stories, and the impact of the Holocaust on subsequent generations.
NAOMI K. LEWIS is the author of the novel Cricket in a Fist, the short story collection I Know Who You Remind Me Of, and the co-editor of the anthology Shy. Her memoir, Tiny Lights for Travellers, was a finalist for the 2019 Governor General's Literary Award for Nonfiction. Her journalism has been shortlisted for provincial and national magazine awards, and she has served as writer in residence at the University of New Brunswick and the Calgary Public Library. She lives in Calgary and sometimes Kelowna.
–
HEIDI J.S. TWOREK: News from Germany
Purchase the Book

To control information is to control the world. This innovative history reveals how, across two devastating wars, Germany attempted to build a powerful communication empire—and how the Nazis manipulated the news to rise to dominance in Europe and further their global agenda. Information warfare was just as crucial a century ago, when the great powers competed to control and expand their empires. Tworek reveals how for nearly fifty years, across three different political regimes, Germany tried to control world communications—and nearly succeeded. News from Germany is not a story about Germany alone. It reveals how news became a form of international power and how communications changed the course of history.
HEIDI J. S. TWOREK is Assistant Professor of History at UBC and a non-resident fellow at both the German Marshall Fund of the US and the Canadian Global Affairs Institute and is Project Coordinator of the United Nations History Project. She participated in the Jewish Book Festival 2020.
---
–
THE DIAMOND FOUNDATION PRIZE FOR CHILDREN/YOUTH LITERATURE
–
JACQUELINE MILLS: Little Synagogue on the Prairie:  The Building that Went for a Ride… Three Times!
Purchase the Book

You may never have heard of a building being lifted off its foundations and moved, not once, but three times! This is the story of the Little Synagogue, the Montefiori Institute, which was originally built in 1916. It became a gathering place for Jewish pioneering ranchers and their neighbours who helped to open up Canada's West early in the twentieth century. After being abandoned during the Great Depression,  it was eventually moved and turned into a small house in Hanna, Alberta. Years later, a group of Jewish Calgarians heard that the Little Synagogue still existed and decided to track it down, restore it, and donate it to Calgary's Heritage Park. In June 2009, the fully restored Little Synagogue was opened and now attracts visitors from all over the world.
An elementary and secondary school teacher by training, JACKIE MILLS was an interpreter in the Montefiore Synagogue for five years and told this story orally many, many times. This charming Canadian history story for early and middle readers is filled with archival and interpretive photographs and is a special part of the great Canadian historical mosaic that will engage readers of all ages.
–
ELLEN SCHWARTZ: The Princess Dolls
Purchase the Book

The Princess Dolls is a gentle story about friendship, set against the backdrop of 1942 Vancouver. The faraway war in Europe casts deep shadows into the lives of two best friends, Esther and Michiko, whose favourite game to play is royal princesses. One day, two magnificent dolls appear in the local toy-shop window: Princess Elizabeth and Princess Margaret. But in wartime Vancouver there's not much money for such luxuries. Bad things are happening: Esther's grandmother is worried about the fate of her Jewish relatives in Germany, and Japanese families in the girls' neighbourhood are being sent to internment camps. With enormous historical and political barriers between them, Esther and Michiko are left to their own devices as to how to mend their friendship.
ELLEN SCHWARTZ was born in Washington, DC, and now lives with her family near Vancouver. She is the author of 17 children's books, including Abby's Birds and Mr. Belinsky's Bagels. She presented The Princess Dolls at the 2019 JCC Jewish Book Festival.
–
HARRIET ZAIDMAN: City on Strike
Purchase the Book

Zaidman's  middle years novel City on Strike (Red Deer Press) tells the story of a 13-year-old boy and his younger sister, part of a poor immigrant family in Winnipeg's North End, who get drawn into the chaos of the 1919 Winnipeg General Strike, a key moment in Canadian history when demands of workers and returning soldiers all played out in the bloody streets of the city.
HARRIET ZAIDMAN worked as a teacher-librarian for 25 years. She has published two picture books and writes reviews for The Winnipeg Free Press and CM: Canadian Review of Materials. She lives in Winnipeg, and hosts the cooking blog called North End Nosh. She was a judge on the Western Canada Jewish Book Awards in 2016.
---
–
THE LOHN FOUNDATION PRIZE FOR POETRY
–
ALEX LESLIE: Vancouver for Beginners
Purchase the Book

In this collection, the nostalgia of place is dissected through the mapping of a city where readers are led past surrealist development proposals, post-apocalyptic postcards and childhood landmarks long gone. Vancouver for Beginners is a ghost story, an elegy, and a love song for a city that is both indecipherable and a microcosm of a world on fire.
ALEX LESLIE was born and lives in Vancouver. She is the author of the short story collection People Who Disappear (2012) which was nominated for the 2013 Lambda Literary Award for Debut Fiction and a 2013 ReLit Award, as well as a collection of prose poems, The things I heard about you (2014), which was shortlisted for the 2014 Robert Kroestch Award for Innovative Poetry. Winner of the 2015 Dayne Ogilvie Prize for LGBTQ Emerging Writers, she participated in the JCC Jewish Book Festival 2020 with the poetry collection Vancouver for Beginners.
–
DAVE MARGOSHES: A Calendar of Reckoning
Purchase the Book

Family, death, love, longing, retrospection: these are all of the themes Dave Margoshes touches on in his new poetry collection, and first in almost a decade. With careful attention to detail, and evocative turns of phrase, Margoshes introspectively looks back on youth. Intriguing metaphors, reminiscent of pastoral imagery, create a sharp contrast between the heavy subject matter of one's own mortality, and the beautiful, evocative comparisons between humanity and the rest of the animal kingdom, particularly birds and trees.
DAVE MARGOSHES is a full-time writer who has published more than a dozen books of fiction, poetry, and nonfiction. His three novels include Drowning Man, I Am Frankie Stern, and We Who Seek: A Love Story. His previous poetry title, Dimensions of an Orchard, won the 2010 Saskatchewan Book Awards Poetry Prize. He has published four other story collections, five volumes of poetry and several non-fiction works, including a biography of Tommy Douglas. His other awards include the Stephen Leacock Prize for Poetry. He currently lives near Saskatoon.
–
TOM WAYMAN
: Helpless Angels
Purchase the Book

As he notes in his introduction to Helpless Angels, his was the first generation in human history to be able to hear anyplace, anywhere, anytime their choice of music performed by someone else. The collection's poems muse on the profound impact music has thus had in his life, praise certain musicians particularly meaningful to him, and take music itself as a subject.
TOM WAYMAN's long writing career includes more than twenty poetry collections, three collections of critical and cultural essays, three books of short fiction, and a novel. In 2015 the Vancouver Public Library named him a Vancouver Literary Landmark with a plaque on the city's Commercial Dr.Recent books include: The Shadows We Mistake For Love (short stories, 2015), which was awarded the 2016 fiction prize by the Western Canada Jewish Book Awards; If You're Not Free at Work, Where Are You Free: Literature and Social Change (selected essays, 2018); and Watching a Man Break a Dog's Back: Poems for a Dark Time (Harbour, 2020). Wayman has been writer-in-residence at the University of Windsor, University of Alberta, Simon Fraser University and the University of Toronto. He is a co-founder of Vancouver's Kootenay School of Writing, the writing program at Nelson, B.C.'s Kootenay School of the Arts, and Nelson's Elephant Mountain Literary Festival.
---
–
THE KAHN FAMILY FOUNDATION PRIZE FOR HOLOCAUST LITERATURE
–
OLGA CAMPBELL: A Whisper Across Time
Purchase the Book

This is the story of one family's experience of the Holocaust. Olga Campbell tells a very personal and moving story through prose, art and poetry, creating a multi dimensional snapshot of family losses and intergenerational trauma. Her art and poetry reflect the theme of sorrow and sadness created by this dark period of history. It is a story of remembering and healing and also a cautionary tale asking the reader to look at what is happening in the world today. It happened before – it could happen again. Part memoir, part art, A Whisper Across Time will make you stop, feel and reflect.
OLGA CAMPBELL is a visual artist living in Vancouver. Her art includes photography, sculpture, mixed media painting and digital photo collage. She is a graduate from Emily Carr School of Art and Design and has had numerous exhibitions throughout Metro Vancouver during the last 25 years. She has written two books, Graffiti Alphabet ( 2009 ) and A Whisper Across Time ( 2018 ), which was launched together with her exhibit, as part of the JCC Jewish Book Festival 2018-19.
–
SUSAN GARFIELD: Too Many Goodbyes
Purchase the Book

In 1944, as Budapest's Jews begin to suffer under German occupation, eleven-year-old Susie takes to her diary. Precocious and charming, Susie records the mundane along with the poignant, describing her family, friends and her daily life against a backdrop of war and persecution. Soon, Susie's young life is marred by farewells — to her father, forced into labour service, and then to her mother when collaborators take her away. After the war, Susie makes a fateful decision to embark on a journey to a new country. Lonely and struggling to adapt in Canada, Susie's diary is now filled with angst. In Too Many Goodbyes, Susan's memoir picks up the story where her younger self left it — close to finding a place where she truly belongs.
Born Zsuzsanna Löffler in Budapest in 1933, SUSAN GARFIELD immigrated to Canada as a war orphan in 1948 and lived in Vegreville, Alberta, before moving to Winnipeg, Manitoba, where she still lives.
–
MARTHA SALCUDEAN: In Search of Light
Purchase the Book

Martha Salcudean is ten years old when her childhood comes to an abrupt end. In Northern Transylvania, now a part of Hungary, the atrocities intensify with the Nazi invasion in 1944.  A split-second decision her father makes changes their fate in an instant — instead of heading to almost certain death in Auschwitz, Martha and her family become destined to be saved by Rudolf Kasztner. After the war, Martha returns home, only to be caught in the grip of a new Communist dictatorship. Martha's journey In Search of Light takes her through the darkness of two oppressive regimes to the beginning of freedom in Canada, where she is finally able to choose her own path.
Dr. MARTHA SALCUDEAN was born in 1934 in Cluj, Romania, and immigrated to Canada in 1976. She was a professor at the University of Ottawa before becoming head of mechanical engineering at UBC. She received three honorary doctorates and a number of prestigious awards and honours for her extensive contributions to science and engineering. Martha Salcudean passed away in July 2019.
2020 WCJBA SUBMISSIONS
An integral part of the Cherie Smith JCC Jewish Book Festival, The Western Canada Jewish Book Awards initiative is designed to celebrate excellence in writing on Jewish themes / subject and showcase the achievements of authors from Western Canada.
Geographical delineation: for the intent of this award, Western Canada covers the area from West of the Manitoba-Ontario border, including the Northern regions, to the BC coast.
Authors are invited to submit their books by December 15, 2019.
Books published in 2018 and 2019 will be accepted.
Categories
•    Fiction
•    Non-fiction
•    Poetry
•    Children and Youth
•    Holocaust
Context
There are currently 2 national Canadian Jewish Book Awards based in Toronto. It is our hope that a Western Canada geographically based awards will achieve our goal of enhancing the literary scene west of the Ontario Manitoba border and will encourage more authors to enter their books into the competition.
Geographical delineation: for the intentions of this award, Western Canada is considered from West of the Manitoba-Ontario border, including the Northern regions, to the BC coast.
Eligibility
The author must have lived in Western Canada for the past 12 months or have lived in Western Canada for at least 3 of the past 5 years.
A book written by a non-Jewish author is eligible if in accordance with the following criteria.
Eligible books:
Containing significant Jewish content or theme.
•    Written by an eligible author (see above).
•    Written in English or available in English.
•    Published in English or in the English translation between the dates published on this site.
•    Have a 13 digit ISBN, including eBooks.
•    Books with Jewish content written by non-Jewish authors are eligible.
•    Graphic books are eligible.
Judging Prize information
The books will be judged by independent industry professionals. The jury will be comprised of 5 judges, to be drawn from a larger pool including judges from all Western provinces.  The winners will be announced by mid-April. An Awards soiree and event will take place at a later date in the spring. There will be a monetary award of $2,000 for each winning author.
How to submit a book for the award
1.   Download the WCJBA Submission form 2020
2.    Mail or deliver in person the following items for each book submitted:
•  A complete entry form
•  5 copies of the book
•  $50 entry fee per prize category
Send to:
JCC Jewish Book Festival
Attn: Dana Camil Hewitt
950 West 41st Avenue, Vancouver, BC, V5Z 2N7
Questions?
Contact Dana Camil Hewitt, JBF director at: 604-257-5156 or jbf@jccgv.bc.ca
Winners of the 2018 Western Canada Jewish Book Awards
Fiction – Diamond Foundation Prize 2018
Deborah Willis – The Dark and Other Love Stories
"The emotional range and depth of Willis's stories, the clarity and deftness, are astonishing."—Alice Munro
The characters in these thirteen masterful and engaging stories exist on the edge of danger, where landscapes melt into dreamscapes and every house is haunted.  The Dark and Other Love Stories announces the emergence of a wonderfully gifted storyteller whose stories enlarge our perceptions about the human capacity to love.
Deborah Willis' first book Vanishing and Other Stories, was shortlisted for the Governor General's Award for Fiction and named one of the Globe and Mail's top 10 books of the year. She lives in Calgary, Alberta.
---
Non-Fiction – The Pinsky Givon Family Prize 2018
Tilar J. Mazzeo – Irena's Children
From the New York Times bestselling author of The Widow Clicquot comes an extraordinary and gripping account of Irena Sendler—the "female Oskar Schindler"—who took staggering risks to save 2,500 children from death and deportation in Nazi-occupied Poland during World War II.
Tilar J. Mazzeo is the author of numerous works of cultural history and biography, including the New York Times bestselling The Widow Clicquot, The Secret of Chanel No. 5, and nearly two dozen other books, articles, essays, and reviews on wine, travel, and the history of luxury. The Clara C. Piper Associate Professor of English at Colby College, she divides her time between coastal Maine, New York City, and Vancouver Island, British Columbia.
---
Children/Youth – the Jonathan and Heather Berkowitz Prize 2018
Irene N. Watts – Seeking Refuge
Kathryn E. Shoemaker (illustrator) – Seeking Refuge
ALSO WINNERS of the 2017 VINE AWARD FOR CANADIAN JEWISH LITERATURE
Seeking Refuge captures Irene Watts' experiences when she was sent to England from Germany on the Kindertransport at the age of seven. This was a military operation that saved almost 10,000 Jewish children during WWII.
"Author and illustrator show their collaborative finesse in a wonderfully rendered marriage between text and art. A book that invites close reading, this will spark interest in the plight of all refugees."IRENE N. WATTS has written poems, plays, novels and non-fiction books. As a member of the Playwrights Guild of Canada, she wrote and directed plays for young audiences to be performed at schools.
KATHRYN E. SHOEMAKER is the illustrator of more than 40 books for children. She has broad experience as an art teacher, curriculum specialist, filmmaker, fund raiser and event designer. She teaches children's literature at UBC.
---
Holocaust – the Kahn Family Foundation Prize 2018
Roger Frie – Not in My Family : German Memory and Responsibility after the Holocaust
ALSO WINNER 2017 CANADIAN JEWISH LITERARY AWARD (in history)
In this extraordinary and highly absorbing book, Canadian author Roger Frie confronts an unspoken Nazi  history in his German family. With remarkable courage, he seeks to transform his family narrative into an understanding of the Holocaust's forbidding reality. The son of German postwar immigrants who were children during World War II, and with grandparents who were participants in the War, he uses the history of his family to explore the moral and psychological implications of memory against the backdrop of one of humanity's darkest periods.
ROGER FRIE is a psychologist and philosopher educated in London and Cambridge. He is Professor of Education at Simon Fraser University,  Affiliate Professor of Psychiatry at UBC and Faculty and Supervisor at the William Alanson White Institute of Psychiatry, Psychoanalysis, and Psychology in New York.